Theresa Roseingrave
What's Next – Social Commerce
Earlier in the year we talked top digital trends and at number 1 was social commerce and this week Facebook Shops or Shops for short was announced; a new version of an existing Facebook feature with a similar name, aimed "to help small businesses adapt and make it easier for people to discover and shop for things they love".
The basic idea behind Facebook Shops is that it allows small businesses to build an online store and sell things directly across Facebook's family of apps, including Facebook and Instagram.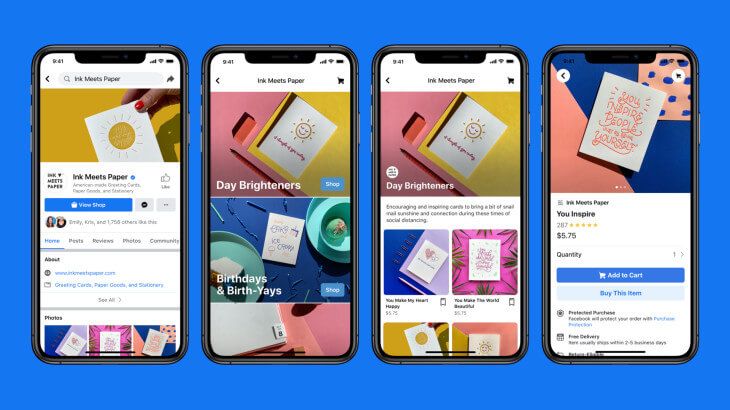 Facebook Shops allows retailers to upload product catalogs to their Facebook page or Instagram profile, with support from partners such as Shopify, BigCommerce, WooCommerce, and more. Users will be able to find these shops directly within the retailer's Facebook page or Instagram profile.
A checkout feature will enable in-app purchases, while a more deeply integrated messaging feature will allow customers to chat with businesses through WhatsApp, Messenger or Instagram Direct.
There's More
Facebook is also rolling out a tool to connect loyalty programs and a shopping feature showing product tags underneath live videos, allowing viewers to make purchases while watching.
Sell Products Live
Along with the new shopping experiences rolling out to both Facebook and Instagram, the company is currently testing the ability to sell products in real time through Live Shopping.
In the coming months sellers, brands, and creators will be able to tag products from their Facebook shop or catalog before going live. As they broadcast, these products appear at the bottom of the live video, and viewers can easily tap to learn more and purchase. Live Shopping is being tested with businesses on Facebook and Instagram and will roll out more broadly "in the coming months."
Zuckerberg said more than 800 million people engage with live videos daily across Facebook and Instagram.
Check it out https://www.facebook.com/business/shops
The BrandAmp team are partnering with a number of ecommerce businesses in preparation, drop us a mail hello@wearebrandamp.com if you would like to chat more about Shops.